Are You Not My Neighbor is a sequel to The Good Egg of Gooseville.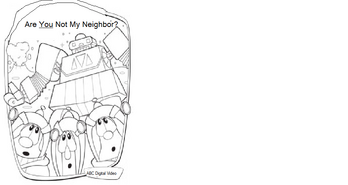 Characters
Edit
Bob the Tomato as Mayor Humpty
Junior Asparagus as Baby Bear
Larry the Cucumber as Jumping Jack
Ellen as Mama Bear
Laura Carrot as Goldilocks
Mr. Lunt as Papa Bear
Jean-Claude Pea as Jack
Jill Pea as herself
Madame Blueberry as Miss Muffet
Ermie Asparagus as Little Bo Peep
Ad blocker interference detected!
Wikia is a free-to-use site that makes money from advertising. We have a modified experience for viewers using ad blockers

Wikia is not accessible if you've made further modifications. Remove the custom ad blocker rule(s) and the page will load as expected.