The Unexpected Twist of the Spring Valley Mall is a sequel to Merry Larry and the True Light of Christmas.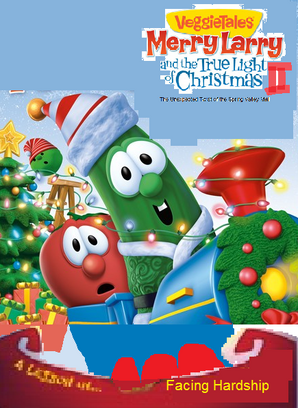 Larry the Cucumber as Lawrence
Bob the Tomato as Philip Fleagle
Mr. Lunt as Roadie Reggie/Luntar the Looter
Madame Blueberry as Mrs. Netterbaum
Archibald Asparagus as Alister Cashberger
Spring Valley Mall Workers as themselves
Spring Valley Mall Children as themselves
Jean Cluade Pea as Henry
Phillippe Pea as Milles
Sara Crew as Christina
Petunia Rhubarb as Luna
Silas as himself
Turnips as themselves
Grandpa George as himself
Jimmy Gourd as Sam
Mr. Nezzer as Melvin
DVD Artwork
Edit
Front Cover
Edit
Lawrence and Philip riding a train
Back Cover
Edit
The merchant, his wife, and the sheep
Christina, Merry Larry, and T-Bot
Luntar the Looter
Opening Previews
Edit
Scene Index
Edit
Introduction
Elf Village
Lawrence's Dream
Merry Larry and Christina Leave for Tootanny
Where is Spring Valley's Star Pupil?
Jail Time
Luntar's Dream
Friends Again
Closing Previews
Edit
Bonus Features
Edit
Audio Commentary
Behind the Scenes
Art Gallery
Progression Reel
DVD-ROM Fun!
Cast Bios
Studio Store
English and Spanish Subtitles
Ad blocker interference detected!
Wikia is a free-to-use site that makes money from advertising. We have a modified experience for viewers using ad blockers

Wikia is not accessible if you've made further modifications. Remove the custom ad blocker rule(s) and the page will load as expected.