The Star of Christmas and Hanukkah Doesn't Get a Star is a sequel to 'Twas the Night Before Easter.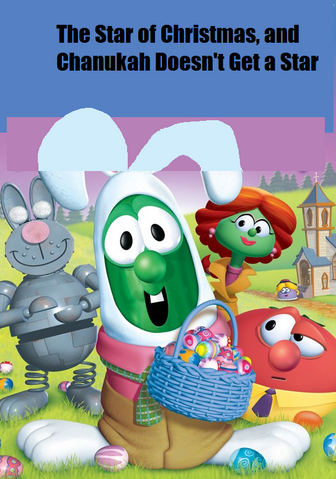 Characters
Edit
Petunia Rhubarb as Marlee Meade
Larry the Cucumber as Louis
Archibald Asparagus as Prescott E. Huddlecoat
Mr. Lunt as Howard Greenman
Gary the Robot Bunny as himself
Bob the Tomato as Pastor Erwin
Madame Blueberry as Pastor Erwin's wife
Cassie Cassava as herself
Junior Asparagus as Joshua
Mr. Nezzer, Jimmy and Jerry, the French Peas, Laura, Miss Achmetha, the Scallions and Pa Grape as themselves
Alvin, Simon and Theodore the Leeks as themselves
Ad blocker interference detected!
Wikia is a free-to-use site that makes money from advertising. We have a modified experience for viewers using ad blockers

Wikia is not accessible if you've made further modifications. Remove the custom ad blocker rule(s) and the page will load as expected.